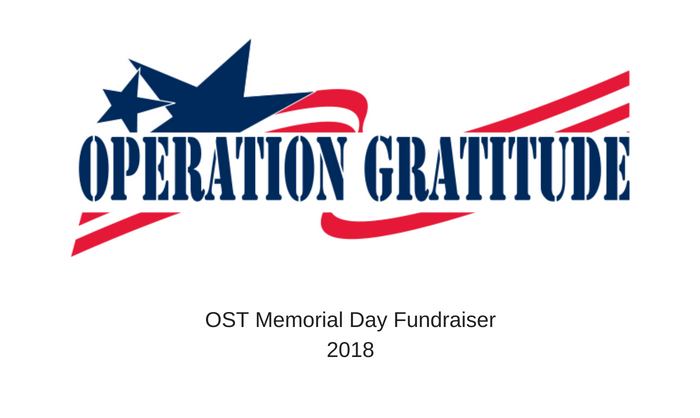 OST's Memorial Day fundraiser is officially underway! For the second year in a row, we are supporting the charity Operation Gratitude. This fundraiser takes place over a two-week time frame and is being held at our Virginia, Maryland, Ohio, Pennsylvania, and Florida locations.
We've provided OST employees with three different ways to get involved.
Dress to Support – Employees can either pay $3/day to wear casual clothes during the two-week fundraiser or if they wear patriotic casual clothing they only need to donate $1/day. All donations go directly to the charity.
Write a Letter – Operation Gratitude includes personal letters of support in the care packages that they send out. We are encouraging our employees to write a personalized letter of support, sign the thank you cards we have around the office, or even have their children draw pictures that the charity can include in their packages.
Donate to the Troops – Operation Gratitude's care packages contain a variety of items including snacks, hygiene products, and entertainment items. We've provided employees with access to a wish list of needed items that they can either bring in or order off the charity's Amazon wish list.
Operation Gratitude's mission is to "lift spirits and meet the evolving needs of the U.S. Military and First Responder communities, and provide volunteer opportunities for Americans to express their appreciation to all who serve our nation." We are excited to once again express our appreciation by supporting Operation Gratitude.
The charity sends 250,000+ individually addressed care packages to military members deployed oversees, to their children left behind, and to first responders, new recruits, veterans, wounded heroes, and their care givers. One of our OST team members has even received a care package from Operation Gratitude when they were active duty military. We couldn't think of a more appropriate charity to partner with for our Memorial Day fundraiser.