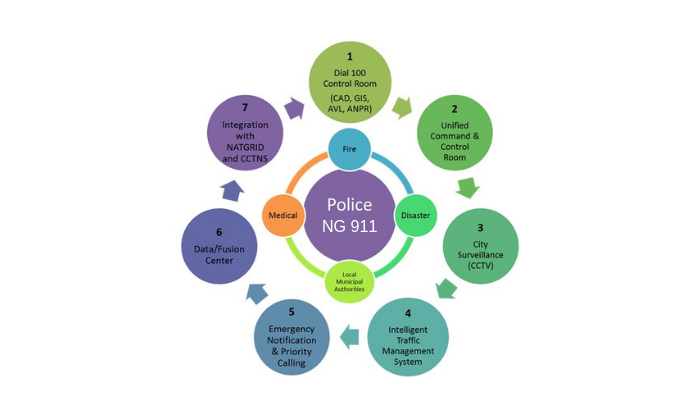 TOWARDS A SAFER WORLD
An "emergency" is the occurrence of any sudden event that threatens life, health, property, public order or daily life. "Emergency" demands immediate attention, often requiring a coordinated, collaborated and comprehensive response from multiple agencies such as Police, Fire, Medical and Disaster Management Authorities.
The management of emergencies is a serious concern. In the recent past, India has faced an increasing crime rate, natural and manmade disasters (including terrorism), road accidents, and other unexpected calamities. The National Crime Bureau (NCB) reports an increase of 64% in mega city crimes charged under the Indian Penal Code (IPC) from 2001-2011. In addition, a World Bank study states that India experiences a higher incidence of emergency situations (India has 25.3 times the vehicle accidents than the world average, and it is a nation where 57% of the land mass is vulnerable to earthquakes, 28% to drought, 8% to cyclones, and 12% to floods)
Integrated Emergency Communications and Response System (IECRS)
IECRS is an integrated communication and response platform connecting citizens in need with Emergency Response Services (ERS) – Police, Fire, Medical and Disaster Management and enabling the ERS to respond more quickly and collaboratively to the actual location of the incident.
It dramatically heightens safety and protection for citizens and supports emergency personnel in adopting a proactive approach towards any emergency regardless of size and scope. This system integrates a number of technologies to ensure a Safe and Smart City.
Features

OST's IECRS is built upon six components or functional areas that encompass the provision of Safe Cities. As shown below, the components are interoperable and scalable. Any of these functional areas can be implemented on their own for a piecemeal approach, or any combination of the six components can be executed for an integrated approach.
If a piecemeal approach is adopted, public safety officials can choose to implement and integrate another IECRS component in the future. Regardless of the approach (piecemeal or integrated), IECRS implementation ensures that all components can be integrated with Fire, Disaster and Medical Services, and Local Municipal Authorities.
NG 911: Integrated Emergency Communication: IECRS integrates Police, Fire, Medical and Disaster Response into one single emergency phone number. The Police Control Room or Public Safety Answering Point will utilise systems and technologies like Computer Aided Dispatch (CAD), Geographical Information Systems (GIS), Automatic Vehicle Location Systems (AVLS) and Automatic Number Plate Recognition (ANPR). An integrated emergency number will reduce public confusion with just one point of contact to reach for all emergencies. Automation using technologies will increase transparency and reduce response times.
Unified Command & Control Centres: The Unified Command & Control Room gives important government stakeholders the capability to monitor, assess, and react to emergency incidences from a single central location. This enables a faster, efficient and transparent emergency response mechanism. The centre provides complete situational awareness by consolidating and correlating emergencies from various systems and presenting them to important decision makers in an actionable format. With relevant information about alerts, the solution guides officials to make the appropriate decision.
City Surveillance & Monitoring: This IECRS component introduces and integrates a number of technologies that enhance the safety of the city. It includes: A high quality video surveillance and monitoring system with Closed Circuit Television (CCTV) systems. Sensor based surveillance for perimeter intrusion, gunshots, bomb detection and face recognition. The surveillance system is integrated with private security systems. All sensors and cameras in the system will be connected to a centre equipped with video management and storage modules.
Intelligent Traffic Management: Intelligent Traffic Management improves transportation safety and mobility. It enhances traffic enforcement, arterial management, public transit management, fleet management and travel/transit management. A Traffic Management Room connects to road sensors across the city, which will measure traffic speed and volume on city roads. The system provides statistical and real-time data that can be used for multiple purposes like infrastructure planning, increasing road safety and arterial management.
Emergency Notification & Priority Calling: IECRS incorporates a state-of-the-art mass notification platform that helps authorities better connect with people in the event of any emergency. An early warning system that can include sirens and public address systems warns residents of impending disasters. This system allows the police to offer citizen-centric services by sending an SMS or e-mail message warning citizens about things like traffic accidents or severe weather. Priority calling is very important as it provides VIPs and government officials with an uninterrupted communication platform during emergencies and disasters. Cell phone network congestion is bypassed making sure that government officials responsible for the emergency response will be able to communicate with each other.
Data and Fusion Centre Solutions: Records for people, property, places, and related information are centralised into a single database using the IECRS Records Management System (RMS). The Fusion Centre provides a single database where data from various agencies and organisations is compiled. The software can then use the data to provide counter-terrorism and crime analysis.