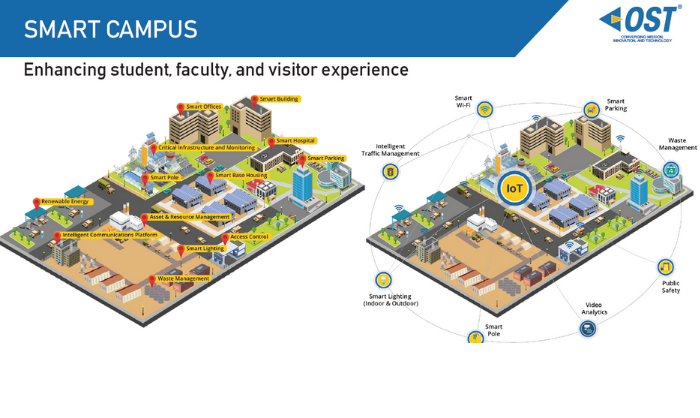 A Smart Campus is a cohesive campus with cutting-edge security, resource management, and access control. OST enhances the campus experience for students, faculty, and visitors.
As a Smart Infrastructure systems integrator, OST helps authorities to deliver higher-quality services more efficiently while realizing major cost savings and revenue generation. We also provide Public-Private Partnership (P3) financing solutions that will cover 100 percent of up-front costs for each project.
Environmental Sustainability
Focus on practices that reduce energy consumption and carbon footprint
Energy management support
Upgrade outdoor/indoor lighting using adaptive LEDs
Other energy efficient upgrades, e.g., optimization of the HVAC system
Additional sensors on Smart Poles to measure and monitor CO2 emissions, greenhouse gas emissions, gas leakage, temperature, humidity, waste levels, etc.
Safety & Security
Video analytics powered by artificial intelligence and complemented with machine learning
State of the art Emergency Operations Center (EOC), Security Operations Center (SOC), etc.
Implement better surveillance with CCTV cameras, sensors, detectors, etc.
Better communication platform for law enforcement and emergency service providers
Integrated LED lights with smart sensors for real-time public safety
Enhanced asset management – tracking of all assets including vehicles and personnel
Next generation security products such as portable X-ray scanners for bags and vehicle scanning