McLean, VA, Feb. 8, 2022 – In 2021, OST, Inc. provided sponsorship for two major industry events in Dayton, Ohio. In July, we were a proud sponsor of a collaboration event at the Wright Brothers Institute's Midwest "Storefront," the 444. The 444 is a central hub for businesses of all sizes to collaborate and connect. The 444 hosts seminars, incubators, and other events aimed at helping the industry support the Air Force and the Department of Defense. 444 also hosts the Air Force Research Laboratory's Small Business Innovative Research/Small Business Technology Transfer (SBIR/STTR) programs office. More than 150 people, including the lab's 2-star Commander, Major General Heather Pringle, attended the social sponsored by OST and the Wright Dialogue with Industry conference. According to Jim Masonbrink, director of the Small Business Hub at the Wright Brothers Institute, the event was a huge success showcasing the 444 and its mission.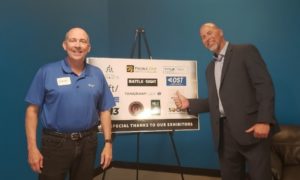 Pictured here are Carl Shofner, Client Executive, OST Inc., and Jim Masonbrink, Director, Small Business Hub at the Wright Brothers Institute
Later in the year, OST was also a major sponsor for the Dayton-Wright AFCEA Casino Night 2021, a premier networking event in the Dayton region that brought together military, government, industry, and academia to raise funds in support of STEM scholarship initiatives. In conjunction with the Wright IT Summit, which OST also facilitated, our sponsorship of the "Into the Wild Blue Yonder" drink special at the event helped to cement our association with the Air Force and AFCEA to provide scholarships for deserving young individuals.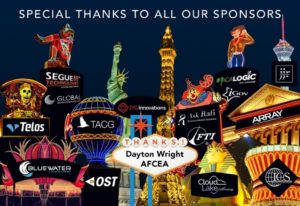 OST was honored to support and help execute both wonderful events!