Contract Information
Contract number
HHSN316201200161W
(OTSB)
Contract award
Contract Statement of Work
In the above document
Labor rates
Attachment J.1 in the above document
10-Year, multiple award indefinite-delivery, indefinite quantity (IDIQ) GWAC
$20 billion contract ceiling
For everything ITSM in support of the Federal Enterprise Architecture, the Department of Defense Enterprise Architecture and the Federal Health Architecture.
0.55% contract access fee; no additional charge for value-added services
Prompt Payment Terms: 0% discount
CIO-SP3 Small Business Program Manager
Points of Contact
OST POC
Eric Moe, Sr. Contracts Manager
2010 Corporate Ridge, Suite 1000
McLean, VA 22102
703.663.8468 (O)
703.615.4143 (cell)
contracts@ostglobal.com
SMS POC
Mr. Christopher E. Coleman
5911 Kingstowne Village Parkway, Suite 210
Alexandria, VA 22315
703-683-9600 ext 417 (O)
703-732-0168 (cell)
IMS POC
Mr.Brian Lindholm
Business Development Consultant
5911 Kingstowne Village Parkway
Suite 210
Alexandria, VA  22315
(301)760-8977 (cell)
blindholm@integritym.com
22nd Century POC
Mr. Ramanjit Singh
8300 Greensboro Drive, Suite 285, McLean, VA 22102
800-517-8408 (O)
202-306-7750 (cell)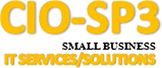 About CIO-SP3 (OTSB)
The Chief Information Officer – Solutions and Partners 3 (CIO-SP3) Small Business Government-wide Acquisition Contract (GWAC) is a ten (10) year Indefinite Delivery/ Indefinite Quantity (IDIQ) contract.
CIO-SP3 provides IT solutions and services such as health and biomedical-related IT services to meet scientific, health, administrative, operational, managerial, and information management requirements. It can be used for everything ITSM in support of the Federal Enterprise Architecture, the Department of Defense Enterprise Architecture and the Federal Health Architecture.
With a $20 billion ceiling, flexible contract types and the ability to award in modular increments and incorporate performance-based features, CIO-SP3 Small Business allows for streamlined planning, acquisition and deployment of large-scale IT program requirements while leveling the playing field with more meaningful small business competition.
More information on CIO-SP3 can be found at their website: https://nitaac.nih.gov/services/cio-sp3-small-business.
About Team OST
Team OST is comprised of OST, Inc, SMS, Inc, IMS, LLC, and 22nd Century, Inc. These 4 experienced small businesses benefit our government customers using the CIO-SP3 contract vehicle by combining our health, health science and biomedical IT expertise with efficient program and Task Order (TO) management. These thriving small businesses with capabilities and experience to support 7 of the CIO-SP3Task Areas through a Contractor Teaming Arrangement (CTA).
Supported CIO-SP3 (OTSB) Task Areas
Chief Information Officer (CIO) Support
Imaging
Outsourcing
Critical Infrastructure Protection and Information Assurance
IT Services for Biomedical Research, Health Sciences, and Healthcare
IT Operations and Maintenance
Integration Services
Digital Government
Enterprise Resource Planning
Software Development
OST, Inc.
(OST) is a small business capable of managing large IDIQ vehicles and will serve as the managing partner for Team OST. OST has experience managing and leading more than 175 subcontractors on projects throughout the government. These examples testify to our management qualifications and our ability to execute complex government projects for improving IT systems. OST has managed and executed projects directly relevant to our proposed CIO-SP3 Task Areas: CIO Support, Operations and Maintenance (O&M), Integration Services, Digital Government, ERP and Software Development. We improve our government customer's operations through enhanced IT system productivity, reliability and security, and reduce costs because we have fewer defects than other IT service providers. We do this by using ingrained standards based on CMMI Level 5, ISO 9001:2008, ITIL v3 and PMI.
SMS, Inc.
(SMS) is a veteran-owned small business who has been providing program development, analysis, evaluation and IT operational, technical, and maintenance services to the government and private sector healthcare industry for more than 18 years. The company has extensive experience improving HHS programs through robust development and assessment. SMS has assisted several agencies in areas including strategic planning, evaluating performance measures and audit protocols, performing system audits, reviewing and improving business processes, identifying best practices and designing and pilot-testing multifaceted quality assurance programs. SMS' private sector healthcare experience includes program assessment and improvements for national health plans, hospital and healthcare delivery systems, pharmaceutical companies, biotechnology firms, and long-term care providers.
IMS, LLC.
(IMS) is a small business focused on detecting and resolving program integrity issues in federal healthcare programs.. IMS provides experience and skill in IT operational, technical, and maintenance services in the health domain. The company specializes in creating large databases, building support systems for health analytics and audit work, and establishing secure communications networks with customers. Their staffs are skilled in the establishment, maintenance, auditing, and quality improvement of fraud and abuse detection processes for healthcare providers, payers, and government oversight organizations including CMS.
22nd Century, Inc.
(22nd Century) is an 8(a) firm that brings additional relevant experience directlysupporting NIH IT projects, including NITAAC. The company is appraised at CMMI Level 3and has collaborated with OST on several projects. Relevant experience includes: CIO Support, Software Development, O&M, and Digital Government.